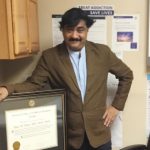 Ayaz Mahmood Khan
MD, MS (Ortho), MBA, MPH, FACHE, CPE, DAAPM, ABDA, ADAAPM, CMRO, CHCQM, Cert. Lean Six Sigma Black Belt, Diplomate ABAM, FASAM
Dr. Khan has a passion for treating patients suffering from chronic pain, addictive disorders and aesthetic medicine with compassion and empathy. He has been doing pain management and addiction treatment in United States since 2004. He has worked previously at major hospitals in New York and he has years of experience in the field of pain management, addiction medicine, aesthetic medicine and health administration. Dr. Khan has degrees in adult psychology, business administration, public health with emphasis on public health administration, and lean six sigma methodologies black belt. He also has training in aesthetic medicine and certifications from American Academy of Aesthetic Medicine and American Board of Aesthetic Medicine. He takes a multi-disciplinary approach to pain management, addiction medicine and aesthetic medicine with emphasis on interventional pain management, regenerative medicine procedures using PRP, PRF, physiotherapy, cold laser treatment, chiropractic treatment and psychological approaches to manage chronic pain. He also has board certification in addiction medicine and he treats all kinds of addictions including opioid addiction, alcohol addiction & tobacco addiction through a comprehensive holistic approach using medications, counseling, integrative treatment of coexisting mental disorders, behavioral therapies, group therapies and motivational enhancement therapy. Although he treats all types of addiction disorders and pain (post-surgical pain, chronic pain, cancer pain, osteoarthritis pain, back pain, pain from repetitive injuries, worker's compensation related injuries and headaches and migraines) he is particularly interested in treating RSD, Coccydynia, Fibromyalgia and Myofascial Pain Syndrome and he feels that these cases are the most difficult and challenging to manage. He likes administrative medicine and have worked in leadership positions at various health facilities. He is also very passionate about treating tobacco addiction and he feels tobacco addiction and chronic pain represent two most prevalent co-morbid conditions that engender significant burden on individuals and on public health in America. He has done dual residency trainings- the first in India in orthopedic surgery and the second in anesthesiology and general surgery at Medical College of Wisconsin, Milwaukee, WI and Saint Raphael Hospital, Yale University, New Haven, CT. He also holds a post graduate degree with orthopedic surgery from India where he practiced for many years as an orthopedic surgeon before immigrating to USA. He has three Master degrees- MBA MPH & MS and has 32 years of clinical experience after graduating from the medical school. Dr. Khan has prestigious CPE certification from American Association for Physician Leadership and is also a Fellow of American College of Healthcare Executives. FACHE certification is the gold standard for board certification in healthcare management. For healthcare leaders, the FACHE credential signals a Fellow's high competency, commitment to service and recognition as an esteemed leader. Dr. Khan also has many trainings and certifications in the field of Aesthetic Medicine and has a dedicated separate practice in this field.
Related websites:
https://medicalaestheticsandlasers.com
Dr. Khan is accepting new patients suffering from chronic pain or addictive disorders in his practice. You can contact his office at (570) 505-3257 or 570-323-3106 or text him at 570-560-9290 .
http://www.painmanagementofwilliamsport.com